IL Super Bowl XII Recap - 2021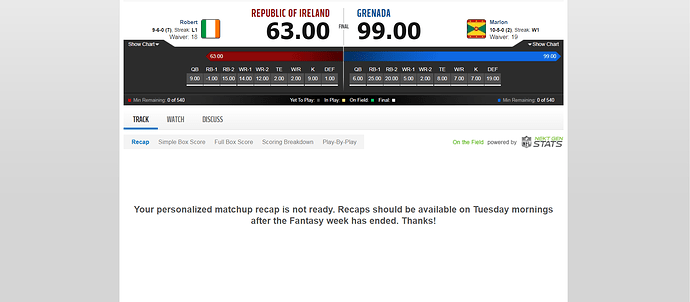 As often happens the recap never generated in this league - same as the last 4 seasons - NFL.com fantasy people don't care despite me reporting this annually to them. Last time this league had a recap generate for the Championship Game (Super Bowl) was at the end of the 2016 season.
Other feedback they have ignored over the years is the PlayOff Tree (see previous post above this one) years ago it used to display each teams logo and team name rather than just the boring writing (team name) as it is now but they didn't seem to care the aspethics are less pleasing now. Anything seems to much trouble for them to fix or listen to feedback on - often the generic replies you get back don't apply in the slightest to what you submited, it got so bad over many years with their Auction Draft draft room I have migrated to Sleeper for all my Auction draft leagues as NFL.com are just to big to care.