TFP AUCTION DRAFT (NFL.com Money League) Year 6 / 2020
This is my newest money league (started in 2015).
The live draft for TFP AD 2020 is:

Wednesday, Sep 9, 2019 at 3:00pm EDT / 8:00pm BST

(Auction style draft)
DISCORD Channel link: TFP Auction Draft League on DISCORD - chat room
Alas not many people took the chat rooms option up for my leagues but there still there should anyone want to lead the way - encourage other GM's to join you in chat - each of my leagues has its own dedicated room to discuss things about that particular league but there is a general chat area for anyone who partakes in any BLM fantasy games I run here: BLM Fantasy Games general chat room on DISCORD
TFP Auction Draft (year 6) is a go.
Caveat - I am setting this league up late this year as I was very hesitant about doing it as I had problems last year in the draft room as did others and felt I'd missed out on the funnest part of the season and wasted my £50 entry fee. So this year waited to run a test on the NFL.com Auction Draft client by doing my RTA (free league's) Auction draft first to see how it went. That was a 16 team league and sadly two people had issues of which I was one. For me everything was fine for the first approximately two hours but then the room froze on me while I was bidding on a RB with 4 seconds left on the clock. My mouse cursor would move around the screen but nothing would respond to my clicking I felt I best close the draft room and reload it. Unfortunately it would not reload. All I got was this message when I tried: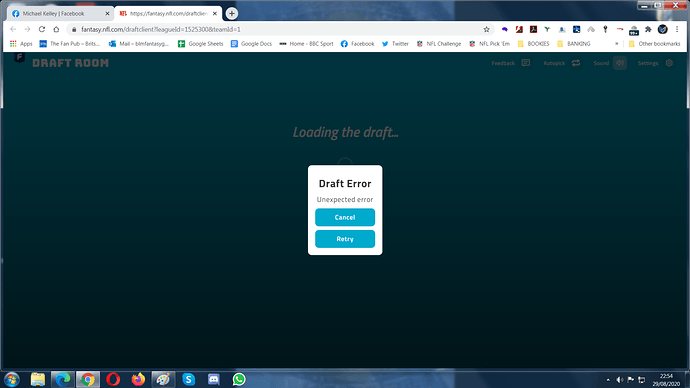 I tried two browsers - Google Chrome and Opera with the same result. I cleared all my cookies and browsing history and even rebooted my PC all to no avail. Finally after rebooting and trying I just had the circle of death with the words loading draft room on both browsers so went away to rant to NFL.com fantasy peeps and sent them a fiery contact us form with screen shots. After about 40 mins one of the hanging loading pages in one of the browsers suddenly loaded and I was back in the draft room but alas the stupid auto-draft client had bid 1 dollar on 4 players I did not need and 3 I did not want 2 QB's (already had 1) and 2 DL's (already had 2) thus filling all my bench spots bar 2 spaces and with only 2 RB's on board had no choice but to go for a third but before I noticed my bench situation I was on the clock and got times out so the player put up was a WR that no one bid on and so I got them filling yet another bench space leaving me just one. I has just under $200 left, only 3rd string running backs left and thus rest of my draft was filling starting positions you have to fill like a K, other IDP's (DE's and LB's) etc,. I finished the draft with $177 unspent budget which is nuts. I have since calmed down and I was the only one using the standard internet that had any issues in my draft. I have since been advised that Microsoft Edge is the most stable browser to use with NFL.com's draft room. Think they told me this themselves in their reply to my fiery complaint to them. If it was not for that issue I had, I think NFL.com had done a great job of improving how their draft room looked and worked this year compared to previous seasons.

The only other person that seemed to have a problem in my draft was using the NFL Fantasy App from their phone and they reported not being able to re-bid after making an initial bid if someone else bid over them. A pretty major fault and being their first ever time in an NFL.com Auction Draft thought this might be how NFL.com did Auction Drafts. Alas he did not bring this up live in the room or I would of paused the draft and told him to switch to using the standard internet and not the app to work around that glitch.

Now I have had 3 or 4 people really keen to do an Auction Draft this year who played last year in my league - I did look into switching platforms but Sleeper don't do auction drafts and when it comes to it I am familiar with how NFL.com works (when it works) and like all my leagues to be hosted in one place. All my other leagues are on NFL.com so have decided to go ahead with using NFL.com but wanted to freely warn people what happened in my free Auction Draft and make them aware in this one as it is for money - £50 if anyone gets disconnected we will pause the draft until they can get back in - unless they tell the room they are going on auto draft by choice as they need to go or whatever. I propose to make someone else assistant commissioner to for the live draft so that if it's me that gets disconnected they can pause the draft. If a person can't get back in hopefully they can connect to Discord to make their player nomination but will have to accept what the client bids up to for them regards players. I suggest I or others can screen grab pictures of the players left when it's a disconnected persons turn and post that in Discord in my TFP Auction Draft rooms channel. I propose waiting up to 20mins for a person to reconnect before we continue. So people should use the time to access their draft thus far, research players or go make a drink or snack. I know this could make it a long draft but that is why my late night start time is 3 hours earlier this year - 8pm rather than 11pm.
All players that were involved last year have the automatic right of return should they want to play again - but due to the lateness of setting this league up that's only guaranteed until midnight on Sunday (going into Monday) after that it's open to all on a first come first served basis. During this time I will also invite people off of the official waiting list (in chronological order) when I know I have space (i.e. people have informed me they are not returning or if there were spaces due to not having a full 14 teams the previous season etc.)
So now onto the nitty gritty rules:
This is a money league with same entry fee as last year - £50 per team - so a serious proposition.
Sticking to using NFL.com 's default settings last season seemed to work fine for most things from scoring to roster positions - with the exception of using WAB points for the waiver wire and we had a Trade Deadline whereas NFL.coms current default is No Deadline so will do the same again for this year - having a WAB budget for waivers and a trade deadline of 20th November, 2020. Also NFL.com has changed their default this years for tie-breakers from Head to Head record to Points For so I have made this change to as I know most people prefer this from feedback in past years.
The league last season only had 12 entrants so I decided to run a poll back then on how the players wanted the league to be regarding Divisions and the majority voted for one big league (all in same Division). So I have decided to make this the set default from now on as that way it does not matter how many teams we get annually as we will now always be in one Division. Also this means the schedule can be randomised just prior to our draft annually to make it as random as can be.
Furthermore to bring some uniformity to the league and so people can plan for it and know exactly when the draft is this league will always draft on the eve of the season start and most likely be a late night draft time (UK time). This is so it can be viable and hopefully attract US players to given time (with it being an early evening draft time on the East coast USA/Canada when we do a late night draft in the UK). This wont work for all I grant you but so many people run money leagues out there now people will find and join ones that suit them based on settings and day/time of draft. It's all about choices and by doing this I'm almost positive the date/time will not clash with any other TFP members league. Well certainly not one that made this day (eve of season).
In future years if the NFL.com draft client becomes stable the plan is to revert to (6pm US ET / 11pm UK) for my Auction Draft annually so as to open up the chances of attracting American and Canadian based players but due to the issues listed above and possible pauses of the live draft this season the start time is 3hrs earlier at 3pm US ET / 8pm UK.
All settings currently being used in this league can be viewed here: TFP Auction Draft - current league settings
So below is a list of those who sign up for this year and when they have paid they will be moved up the list on that basis and bolded - to show they have paid.
TFP £50 Online Auction Draft League

Sign Up List (Bolded when paid)
NAME (team name) / TFP Username
Noel Symonds (Shak Attack) / bluelionman
Andre Bonifay (Hooked On A Thielen) / abonifay
Dean Poole (Against The Spread) / Dean
David Garcia Fernandez (The Knights of Santiago) / David_Garcia_Fernand
Wesley Lang (Auction No Scope Sniper) / Fragilezim
Mike Mark (FlyEaglesFly) / YellowMoney
Matthew Elstone (Suddenly Asiasi) / melstone
Alan Roberts (T1tsburgh Feelers) / Alan_Feelers
Iain Morris (Mozza's Mob) / Mozza_19
David Dean (Harry the Hitmans Heros) / ccfcchris
Robert McGregor (Viking City) / mconabike
James Mallin (Mother Tucker's) / thandouk
Gary Johnson (They are we thought they were) / gazj885
Further Info:
Should any year we have an odd number of GM's the last to pay will be the team removed (and naturally refunded if already paid) to make the league level to be able to draft.
Waiver Acquisition Budget (WAB) - Each team is allotted a seasonal budget. This seasonal budget is the amount of points that each team has at their disposal to bid on available players. The team with the highest bid wins that player and is charged the amount of WAB points that they bid to obtain the player. If you bid on a player, but lose to a higher bid, you do not forfeit the amount of points that you bid. All of the WAB points that you bid will be returned to your seasonal budget. In the event of a tie, the team with higher waiver priority will win the bid.
PRIZES - Will be worked out and confirmed shortly after drafting once prize pot is known post draft but all entry fees will go back out as prizes:
2020 PRIZES - (based on 14 teams)

Winner - £300
Runner Up - £150
Third - £70
Highest Weekly Score (Regular season only Weeks 1-13) - £10 x13
Highest Weeks Score of season (including Play-Offs) - £50

Total - £700
TFP Auction Draft Official waiting list

OFFICIAL WAIT LIST (If you are sure you want in to this money league then ask to go on this official waiting list and when a current member withdraws the first person on the list will be offered the chance to claim that spot for the next season and so on down the list):

Name / TFP Forum Name

Current Vacancies = 1 (for 2020 season)