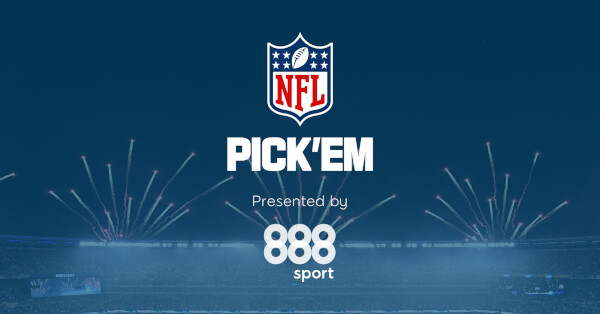 IT'S BACK…
After a one-year hiatus I noticed on Monday (very last minute) UK NFL.com launched this game - which I've not seen since the 2020 season!
UK NFL.com have re-launched their Pick'Em game with a new sponsor (888 Sport as opposed to Sky Sports) so I have set up a small stakes private money league like I have in past years (when the game has been run). Despite the late time frame, I do hope I can get a decent entry pool (so feel free to forward this e-mail on to anyone you think might like to join in). We need a decent entry pool to make it both competitive and decent prize pay-outs as I'm paying top 3 at the conclusion of the game.
So, my private money league is £10 to enter with a top 3 pay-out as follows:
PRIZES

1st - 60%

2nd - 30%

3rd - 10%
Prizes are given as percentages as I don't know how many entrants, I will get but all entry fees go back out as prizes so the bigger the league the bigger the pay-outs.
So that's it, please spread the word and get your mates involved. All I ask is everyone who joins to have paid before the first game of NFL Week 2 starts.
The league name is: BLM NFL 2022
The league code to join is: ** REDACTED **

I* you know you want in clicking this link should add you directly to the league:
Link to game site (without joining my league): NFL Pick 'Em
If you don't know the score regards how to make payment just contact me to ask (either e-mail me at my fantasy games addy or PM me from here on the TFP forum).
That's it, hope to see you in my league soon.
bluelionman / Noel Symonds

Fan Pub Founding Member
Previous Winners