Discord Channel - fpl-draft (on BLM fantasy games server)
Discord User Names Key
(Bolded when known to be on Discord)

Name / Discord Username / TFP Forum Username if registered

Andy Duenner / duenni / duenni
Dale Elstone / delstone / delstone
Daniel Nichols / flacco / flacco2012
James Taylor / jrt55555 / jrt55555
Kieran Ellis / Kierz_77 / Kieran_Ellis
Kirk Hitchcox / TPIG / Kirk
Liam McCarthy / Macca
Martin Fraiel / Frazzie / Frazzie
Noel Symonds / bluelionman / bluelionman
Sam Devereux / SamDev69 / s.devereux
Samuel Eastham / Simba /
Steve Bibbing / WirralRobin / WirralRobin
Steve Smith / Stevefringe / Stevefringe
Tyler Bagley / DapperDolphin
Do you follow the Premier League?
Do you like fantasy football?
Would you like to get involved in a draft type fantasy football money league (where no one can have the same players)?
If the answer is yes, then read on my friend as I have just such a league drafting on the eve of the new Premier League season, that being Thursday, 10th August 2023 at 8pm (UK time).
I have picked a live draft date and time for this league as close to the season as possible to give everyone the most amount of time to asses the news on player transfers.
Each entrant that signs up can vote for the scoring settings we will use - either Classic or Head to Head (as we had in this league last year). One team one vote - which you will cast by posting on the leagues message board. Whichever option the majority are in favour of come 12 noon UK time on Thursday - this leagues draft day - will be which setting we go with. If by some chance, it's a tie I will flip a coin - can't really say fairer than that.
The entry fee will be the same as last season - £25 per team. I will confirm prizes after the live draft as soon as everyone has paid up. To avoid chasing people and because post draft I can't delete people from the draft league I am only sending an invite to people to actually get into the league once payment has been made. I have to wait until the live draft to know exactly how many teams we have (unless I get a full quota of 16 players prior to then in which case I can then work out the prizes before the draft itself - which would be better. All entry fees will be paid back out as prizes 100%).
Last season we had prizes for 1st, 2nd, Highest Weeks Score & Highest Cumulative Fantasy Points Team Score.
I am using Fantasy Premier League's (FPL's) draft game for this money league.
League details: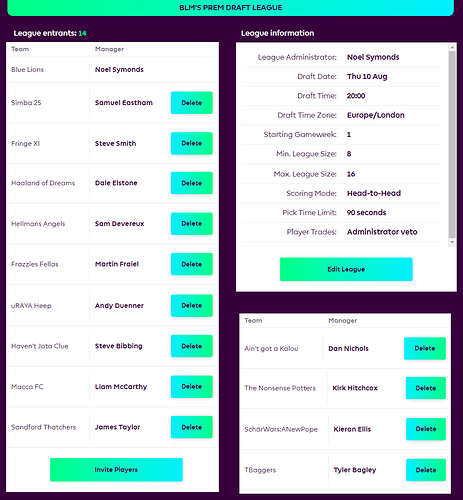 You may have noticed from the above league info I have activated player trading in this league where it goes to an Administrator veto - I think this means I have to approve every trade and will only deny ones that seem to be collusion or very unbalanced. When I am in doubt or if I am involved in a trade personally, I will ask on FISO forum and TFP's Discord communities' advice to make sure they agree trades are fair. I have switched to the Administrator veto system because in past seasons using the manager vote system no trades ever completed. I think this was twofold - the FPL Draft client only allows trades to be proposed in a tiny window between Gameweeks and a trade could only be accepted up to the waiver deadline - sometime this was a window as short as only 24hrs - any unaccepted trades at the waiver deadline would automatically get cancelled. I think this meant often trades got cancelled before the team they were proposed to even saw them. It's a really bad game floor in my opinion that FPL has not addressed - that being not able to propose trades at any time and having them complete after a voting period or at the next deadline if in the middle of a Gameweek.
I have stuck with the standard default of 90 seconds per pick - I know some find this to long but equally others don't so decided to keep to the default setting (the system allows for me to set it at 30 through to 120 seconds).
I have chosen an eve of season draft this year as I was late deciding to run my league again this season.
Overseas players are most welcome to.
I have decided to send this info out by e-mail and post it on TFP forum and the first 15 to commit and pay up are in.
I will send a direct invite to the league when a person pays the entry fee - that way I guarantee it's first come first served, nor do I then have to chase anyone for payment and can confirm the prizes sooner rather than later.
Game-site Link - FPL - Fantasy Draft
All that remains now is for you to decide - are you in - or out?
bluelionman / Noel Symonds

Fan Pub Founding Member
---
PS If you don't know my payment details just PM from here or hit me up on Discord to ask for them.
P2 Find the past winners history for my Premier League Draft games here: BLM EPL Draft Game - League History