How can I rename my team?
It's not the most simple website to use, is it?! Let me know what name you want and I will use commissioner power to do it for you…
Have you all taken Triple A teams?
Bit of everything, triple A, double A, single A, independent. Have fun with it!
Since the best names have already been taken i'd like to take Salt Lake Bees thanks
I take that back. I'd like my team to be the Spokane Indians
Thanks very much. I see the draft order hs been set? Is that final?
I saw last years draft results but I can't find any standings and final table from last year. Sorry to ask so many questions
Draft order is not final. I will randomise, on the day of the draft
This thread has all last year's details, including the standings
No problem about the questions, I will post more details anyway closer to the draft
Well well well…
First week of the fantasy season done, and look who's on top. Yes, your beloved commissioner, and reigning champion, at it again !!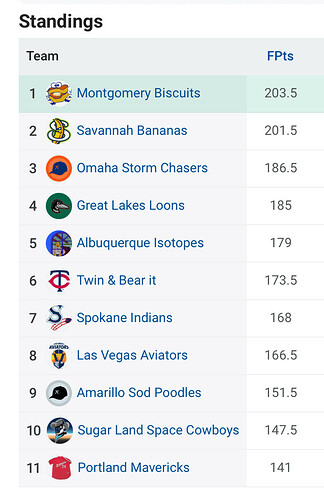 I'm leading narrowly from Sam's Bananas. Last year's runner up Albuquerque had the best pitching lineup of the week but was let down by his batters.
Javier is off to a slow start, thanks to an astonishingly bad pitching display. It is genuinely difficult to score only 7 pitching points in a week, but at least the only way is up!!
Hope you're all enjoying the early season games, I'll do another update in a couple of weeks.
That's weeks 2 and 3 completed.
Which means we are about 10% of the way through the season, so not time to panic yet!!
Week 2 saw a comfortable weekly win for new boy Jordan, while last year's wooden spooner Chris had a surprisingly decent second place.
Malcy's Loons won week 3, while Mozza's Sod Poodles were a good way clear at the bottom.
All of which means…
Very tight at the top - Flacco's Storm Chasers lead, but Jordan and Sam are both within a couple of points
My lead didn't last long, I've drifted down to seventh after a good start
At the bottom, two teams are already 100 points off the pace, Javier (although the imminent return of Tatis Jr. will help) and rock bottom Mozza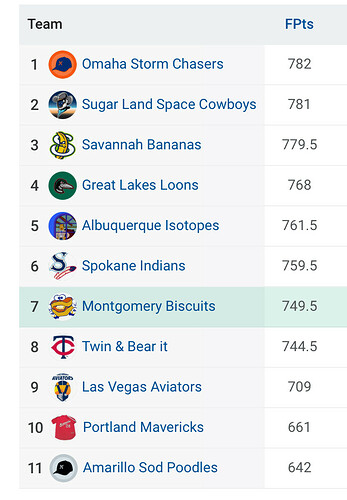 Week 4 - Sam's Bananas won the week, thanks mainly to a very strong pitching performance. Me, Malc, Jordan and Andy S all relied on our batting to finish up near the top. Javier's Mavericks comfortably last…
Week 5 - another weekly win for Jordan, with a surprisingly solid effort by Chris in second. Andy D took the last spot on the podium, while Malc's Loons prevented Javier from taking last place again
Overall - Jordan and Sam lead from Flacco, who has dropped back into third. Still only 70 points covering the top 8 teams at this early stage, so need for anyone to panic (except maybe Javier!)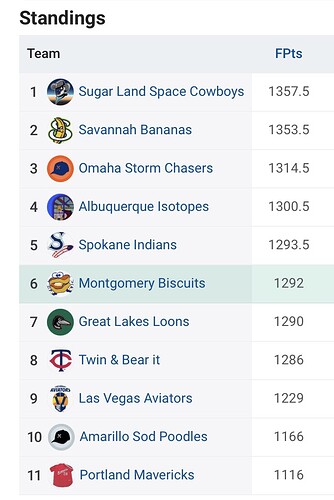 Week 6 - a great week for yours truly - Javier also mysteriously did really well after weeks of underachievement
Week 7 - a comfortable win for Sam and his bananas. Andy's Isotopes flopped though
Overall - Sam now over 80 points clear of a chasing pack led by Malcy, me and Jordan. Mozza and Javier setting up an exciting struggle for the wooden spoon. Everyone else in the middle!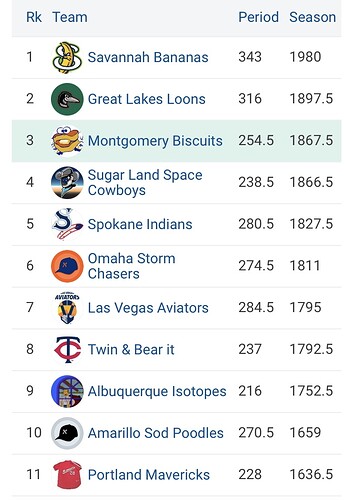 My pitching staff is seriously underperforming - one season-ending surgery, one 60-day disabled list, one 30-day disabled list…
I know the feeling, two of my pitchers have already had season ending Tommy John surgeries

I can't see us finishing first and second, in either order, this year!