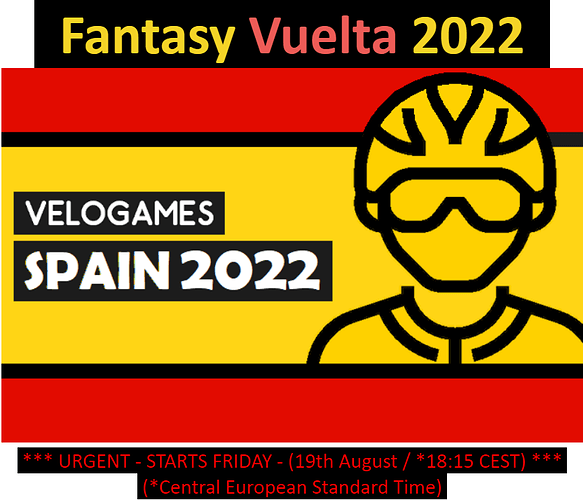 18:15 CEST (Central European Summer Time) on Friday 19th August 2022. That is 17:15 in the UK, and 12:15 on the US East Coast.

Make sure to check how your own time zone differs from Central European Time to make sure you meet the entry deadline!
VELOGAMES Fantasy Vuelta 2022
(now known as SPAIN 2022 for legal reasons) has launched.
Velogames is a free web site that runs fantasy cycling games on various cycle races including Grand Tours such as the Giro d'Italia, Tour de France and Vuelta a España.
Their tour games are perfect for those of you that don't have much time but like to have a go, as the only time you need to spend on any of their classic games is at the beginning selecting a team before the start of the race (as there are no transfers at all in Velogames Grand Tour cycling classic games tables).
However, in a recent change for those that like a more in-depth challenge there are transfers available in Velogames new Stage Hunter games tables (but for my money leagues I do not pay attention to these tables).
So please click on this link to check their website out and familiarise yourself with the rules and how points are awarded: Velogames / Spain 2022 / Rules
The game is free and you can be in up to 5 private mini leagues.
Now to create some rivalry I have set up a private mini league which I am taking a fiver ( £5 ) off anyone who comes in to it. This is just to make up a prize for the eventual winner of my mini-league. Now because Velogames keeps the same mini league for every game these days (saving me having to set up a new one every game) it will automatically put people in my league who have joined it in previous games. As I can't be sure who wishes to partake for money each cycling tour, I run a money league on it is important if you want to play for money in my WTA league you pay before the start of the race as just before or soon after the start, I will delete any unpaid for entries.
League Name: WINNER TAKES ALL
The leagues code is: 555334016
I think by the leagues name it's self-explanatory how the money gets paid out - more teams in the league, more money for the winner.
PAYMENT: Just PM me from here (TFP forum) for how to pay if you don't see me in person and don't know the standard procedure.
---
UK Television coverage:
Live coverage
You can get live coverage on Eurosport. A lot of people have Eurosport as part of their TV package, but if you don't, you can sign up for what is now called the Discovery+ Player. It's £6.99 a month – which will cover the entire race – or £59.99 for a whole year (for which you would get live coverage of pretty much all the other major bike races this season and most of next season). The Discovery+ Player means you can follow the entire race on your phone, your laptop or via a TV app (or even on your telly plugged into your laptop as a workaround).
Highlights
Quest TV nightly at 7:00pm
A daily one-hour highlights programme will be broadcast on Quest at 7pm. It's a Eurosport production and is much the same as the programme they do for the Giro each year. Quest is available on Freeview and most of the other UK TV platforms, so there's a good chance that you'll be able to get it.
---
To see how your fantasy team is doing compared to the others in the mini league just visit the Velogames website and log in every evening (after the stage has finished to see updated scores).
All the best and I really hope to see some new teams in my mini-league this year (as well as all the old regulars).
best regards,
bluelionman / Noel Symonds
Fan Pub Founding Member