In the discord chat last week I mentioned that there was a big disparity in points scored for the kicker and dst positions. After 5 weeks the highest point scorer from these position was Tittsburgh Feelers with 131 points, the lowest The Broken Soldiers with 44. That's a 87 point disparity or 17.4 points per week, quite a big deficit to make up from the remaining 7 positions.
This led the discussion to talk about the merits of having kickers, with a few people suggesting not having the position at all. For the record I don't have an issue with kickers, I don't see how they are more than random than touchdown scorers.
However this got me to thinking how influential the different positions have been. To look into this I have looked at the results of the 40 games played so far. Then I have seen if the result changes if we take away the points from a position group. (We have to remember that for RB and WR there are two players in this position group so you would expect these positions to influence more games). The results are as follows: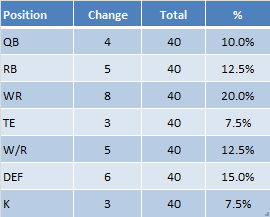 This shows the kickers has influenced the results of 3 out of the 40 games so far. This doesn't sound like very many until you look at the other positions. This is consistent with the TE number and only 1 less than the QB number. Effectively the kicker has been as influential as the QB in our fantasy league. In fact if we had removed the RB position then 35 of the 40 results would still have been the same, is this a reflection of the lack of every down backs suppressing RB scoring?
All of these numbers seem quite low to me, and that maybe a function of how the Originals league is panning out this year. I don't have the numbers to back it up, but it feels to me that this year there seems to be a definite spread between the good and bad teams with a few in the middle, previous years it felt a lot closer at this stage.