Bryce young qb
Adam thelein wr
Hayden hurst te
Please
AMENDED week 10 line up
HC - Mike McCarthy DAL
QB - Justin Herbert LAC
RB - Bijan Robinson ATL
WR - Amron St Brown DET
TE - Trey McBride ARI
K - Jason Myers SEA
DEF - Dallas Cowboys
Reserves
QB - Sam Howell WAS
RB - Dameon Pierce HOU
WR - Tyler Lockett SEA
TE - Dalton Schultz HOU
K - Dustin Hopkins CLE
Joanthan gannon cards
Janes connor cards. Rhamobdre stevenson reserve
Cards defense
Matt prater. Youngheeo koo reserve
Week 10
HC Sean McDermott
QB Russell Wilson
RB Javonte Williams
WR Jerry Jeudy
TE Dalton Kincaid
K Will Lutz
DEF Denver
Reserves
QB Josh Allen
RB Jaleel McLaughlin
WR Courtland Sutton
TE Adam Troutman
K Tyler Bass
@bersch1986 (ditto everybody…)
FYI - I have encountered something that has not happened before in this game.
Basically Justin Fields did not play meaning your auto reserve comes in but when doing the scoring I noticed you have already used your reserve Taysom Hill back in NFL Week 6 meaning you can't use him again. It does not matter you are selecting him for a different position (QB this time - TE last time) the game is One & Done and you can only ever use a player, head coach or team defence once regardless of position you are selecting them for - same way if a player changes teams - you do not get to pick them again.
Very few players are listed in my game in two separate positions but there are a few and Taysom Hill is one. You could of always asked the question for clarification but I suspect you forgot you had even already used him but thought this was worth a public reply so all can read this and understand the rules more clearly going forwards.
Now the reason for me going ahead with the auto sub still is either way you would get zero points this week for your QB slot (as Fields was inactive) but at least this way you can still use Fields in a future week should you so chose as by Taysom auto subbing in you have not used Fields but still get zero points as you have already used Taysom Hill.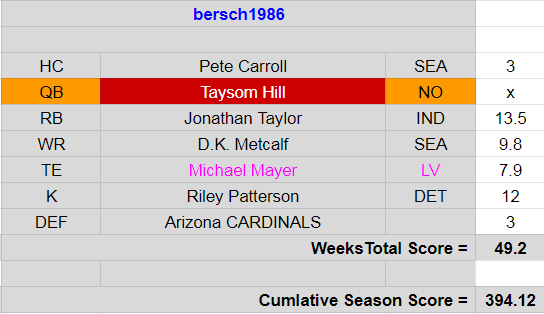 Now if anyone ever has a query about something in this game just post the question here and I'll answer it publicly so not only you get the answer but all can see it.
On to NFL Week 11…
HC - Ron Rivera WAS
QB - Sam Howell WAS
RB - Brian Robinson WAS
WR - Christian Kirk JAX
TE - Dalton Schultz HOU
K - Matt Ammendola HOU
DEF - Washington Commanders
Reserves
QB - Joshua Dobbs MIN
RB - Jerome Ford CLE
WR - Puka Nacua LAR
TE - Cole Kmet CHI
K - Dustin Hopkins CLE
Week 11
HC RIVERA WAS
QB LAWRENCE JAX
RB ROBINSON WAS
WR MCLAURIN WAS
TE MCBRIDE ARI
K PRATER ARI
DEF BROWNS
RES
QB MURRAY ARI
RB CONNOR ARI
WR SMITH PHI
TE KINCAID BUF
K CARLSON LV
Week 11
HC Mike McCarthy
QB Matthew Stafford
RB Jahmyr Gibbs
WR Cooper Kupp
TE Pat Freiermuth
K Brandon McManus
DEF Packers
Reserves
QB Jordan Love
RB Craig Reynolds
WR Marquise Goodwin
TE C.J. Uzomah
K Younghoe Koo
NFL Week 11
| HC | Sean Payton | DEN |
| --- | --- | --- |
| QB | Russell Wilson | DEN |
| RB | Austin Ekeler | LAC |
| WR | Terry McLaurin | WAS |
| TE | Dalton Kincaid | BUF |
| K | Matt Ammendola | HOU |
| DEF | Buffalo BILLS | |
RESERVES
| QB | C.J. Stroud | HOU |
| --- | --- | --- |
| RB | James Conner | ARI |
| WR | Puka Nacua | LAR |
| TE | Trey McBride | ARI |
| K | Dustin Hopkins | CLE |
Ron rivera
Tommy de vito
Devon singletary
Tank dell
Dalton shultz
Matt ammendola reserve brandon mcmanus
Houston defense
My week 11 team
HC - Staley
QB Justin Fields
RB Devin Singletary
WR Noah Brown
TE Dalton Schultz
K Dustin Hopkins
DEF Commanders
Reserves
QB Murray ARI
RB Saquan Barkley
WR Adam Thielen
TE Logan Thomas
K Prater
Week 12
HC VRABEL TEN
QB CARR NO
RB POLLARD DAL
WR EVANS TB
TE SCHULTZ HOU
K JOSEPH MIN
DEF PATRIOTS
RES
QB PRESCOTT DAL
RB GIBBS DET
WR NACUA LAR
TE KINCAID BUF
K CARLSEN LV
NFL Week 12
| HC | Mike McCarthy | DAL |
| --- | --- | --- |
| QB | C.J. Stroud | HOU |
| RB | Tony Pollard | DAL |
| WR | Tank Dell | HOU |
| TE | David Njoku | CLE |
| K | Matt Gay | IND |
| DEF | Tennessee TITANS | |
RESERVES
| QB | Kyler Murray | ARI |
| --- | --- | --- |
| RB | Saquon Barkley | NYG |
| WR | DeVonta Smith | PHI |
| TE | Trey McBride | ARI |
| K | Brandon Aubrey | DAL |
Can i take the following please
Sam howell commanders
Aj dillon pack
HC - Mike Vrabel TEN
QB - Dak Prescott DAL
RB - Derrick Henry TEN
WR - CeeDee Lamb DAL
TE - Evan Engram JAX
K - Nick Folk TEN
DEF - Tennessee Titans
Reserves
QB - Joshua Dobbs MIN
RB - Jerome Ford CLE
WR - Puka Nacua LAR
TE - Cole Kmet CHI
K - Dustin Hopkins CLE
Week 12
HC Dennis Allen
QB Kyler Murray
RB Anthony Mc Farland
WR Diontae Johnson
TE Andrew Beck
K Evan McPherson
DEF Seahawks
Reserves
QB Sam Darnold
RB Tyler Allgeier
WR Chris Olave
TE Jake Ferguson
K Chad Ryland
Bill belichick
Demario douglas
Hunter henry
Chad ryaland kicker
Pats defense
All new england
Week 12
HC Matt Eberfluss CHI
QB Joshua Dobbs MIN
RB Khalil Herbert CHI
WR DJ Moore CHI
TE Robert Tonyan CHI
K -
DEF Bears
Reserves
QB Nick Mullens MIN
RB Roschon Johnson CHI
WR Brandon Powell MIN
TE Johnny Mundt MIN
K -
Week 13
HC BOWLES TB
QB MAYFIELD TB
RB WARREN PIT
WR GODWIN TB
TE FREIERMURH PIT
K FOLK TEN
DEF STEELERS
RES
QB WILSON SEA
RB FORD CLE
WR PITMAN IND
TE HIGBEE LAR
K BUTKER KC
Week 13
HC Brandon Staley
QB Jameis Winston
RB Hassan Haskins
WR Jakeem Grant
TE Jonnu Smith
K Wil Lutz
DEF Atlanta Falcons
Reserves
QB Zach Wilson
RB Eric Gray
WR JKhaDarel Hodge
TE Teagan Quitoriano
K Cade York