TFP Auction Draft Super Bowl VII - 2021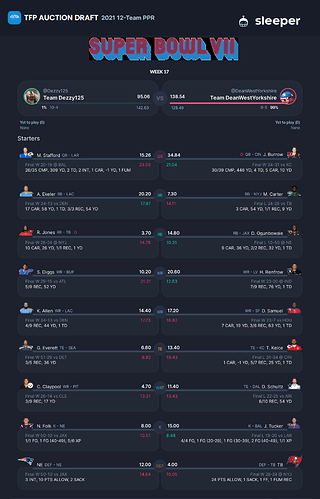 (Winner) Dean Poole (Team DeanWestYorkshire) / Dean - 138.54 (£230)
Highest Weeks Score - 2021 (Year 7)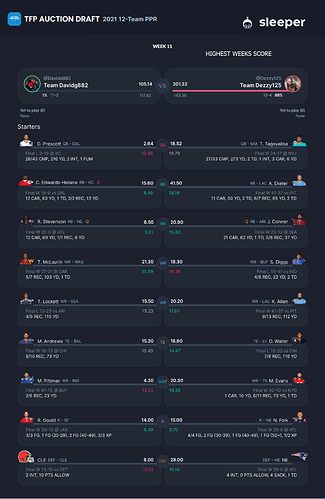 (Week 11) Derek Neuapuer (Team Dezzy125) / dezzy125 - 201.32 (£50)
Hey all - I was contacted by someone believing I missed out their highest score prize from Week 17 so need to make a clarification about such.
Clarificaton - to earn a highest weeks score prize you must be involved in an actual game - not on a bye. Also as this was my first year using Sleeper I noticed they display things rather differently to NFL.com so to clear things up for future reference I wish to make it clear you have to be involved in a game that displays as an official matchup for that week for your score to count towards either a weekly or season long highest score - as that is what I use to check for each weeks offical highest score. So if your on a bye or do not have a game - due to elimation, your score does not count. This is because you have zero risk to who you start - there is no jeapordy. However 'Toilet Bowl/Cosolation' match-ups still count - as long as they appear as an offical match up on the match up's llist for that week.
So here is a screen grab of the only official match ups displayed for Week 17 of the 2021 TFP Auction Draft Season on Sleeper: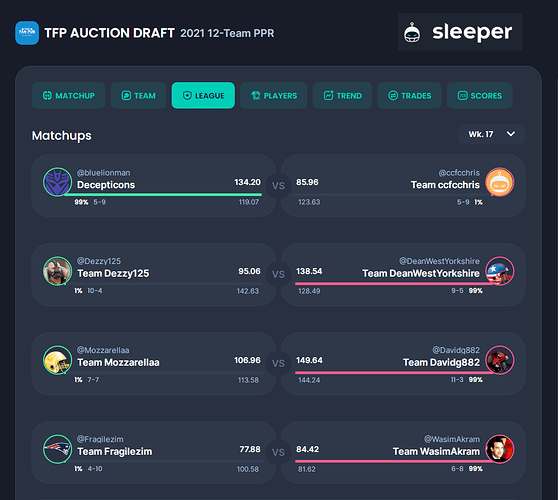 Cheers for running this league Noel!
The money came through earlier in the week.