Head to Head league will start when filled (16 entrants) - so looking at NFL Week 2 now as wasn't filled in time for NFL Week 1.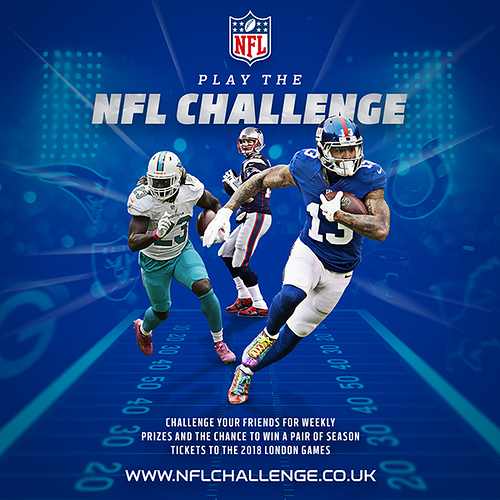 Well the games just keep on coming - the NFL UK website has re-introduced it's own fantasy NFL game for this season which is nothing like the Sky Sports Fantasy NFL Football game it did away with a few seasons ago. I've had a look into the mechanics of this new game and decided it is different enough (just), to all the other NFL games I currently run money leagues on to want to add this game to my fantasy games ledger.
It's a free to play game with some top prizes on offer in the overall leagues (if your based in the UK) including a top prize of a pair of season tickets for all 2018 International series games that are held in the UK next year. There are many other smaller prizes to - like a baseball cap each week for your own NFL teams overall league.
However if your a gambler like me and don't fancy your chances of beating everyone playing in the game (or not eligible to win the official prizes as your not based in the UK) then why not, for some added interest join one of both of my private money leagues I have set up within the game on NFL UK.
I have made each league just £10 entry a person in my money leagues and will have prizes for the top 2 at the end of the game in each league.
BLM NFL UK - OPEN
The first league is called an 'Open' league and as many people as wish to can join. Each persons total fantasy score decides your position in the league and at the end of the season which ever teams are in the top two spots will share the money. Naturally it will be more for 1st than 2nd. I will work out what the payouts are when I have collected all payments in and see how many people actually join up.

BLM NFL UK - H2H
The second league I have set up is a 'head to head' style league where you are matched with another opponent in the league each week of the season and your weekly score versus the person your playing decides whether you Win, Lose or Tie and like in the NFL this will give you a W-L-T record.
I have chosen for this league to have a play-off type ending - it says Head to Head leagues can be set up with 4,6,8,10,12,14 or 16 teams. I have gone ultra optimistic and set up a 16 team league with 50% (8 teams) making the post season (playoffs will be weeks 15-17 of the actual NFL Regular Season).
If this league fills that would make £160 in the prize pot which I plan to pay out as follows:
Winner of League: £100
Runner Up: £40
Team seeded #1 going into Play-Offs: £20
It does allow me to edit the size of the league so at midnight on Thursday if the league is not full I will reduce the size of it to make sure we start Week 1. As it has to be an even number of teams if that means we have an odd number last team to pay entry fee will be booted and refunded. Naturally I hope I will not have to do this but if I do I will reduce the prizes and advise what they are adjusted down to. So please spread the word and lets get 16 in ASAP.

Well over to you - any one who wants in can find the game here: NFL CHALLENGE
Best regards,
Noel / bluelionman
PS If your not going to see me in person and don't know the score please PM me for payment details.