It's bad enough I lost over 5K betting on the Euros in France when ever that was - but I decided to do the smart thing and try my hardest to give up betting for a while… I didn't wanna close accounts as might come back to it but also didn't wanna go through all the hassle sites make you go through to withdraw and knew one day I'd bet again so just stopped.
Well its been over a year I'd say since Euros to now - new NFL season.
Also in that time my PC went out of action - broke and I forgot my logins or what sites I had accounts with as I had loads (using odds checker to get best odds) so had money everywhere -
how I remembered they were all saved in my favourites under sports books which naturally was lost when shop deleted my OS Windows 10 and put back on a Windows 7 OS.
Well imagine my surprise when I just logged in to Ladbrokes today and have way less than I thought I had when I stepped away - so go in my history and can only seem to go back so far and I find this: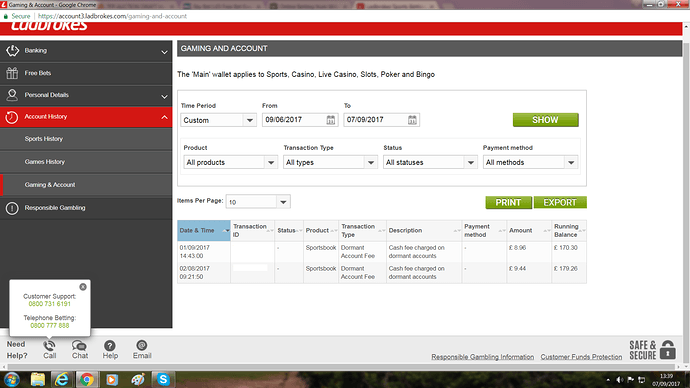 Bar-stewards - if it's not bad enough they take ya money on bad punts they take it when not betting…

Now I'm panicking how many other sports books do this and have robbed me while I been taking a break - as when I try and find logins to all the other sports books I had a/c's with it's hard to recall all - am gonna find I've had £100's pinched - absolute c***s - think they could of called me up or sent a few e-mails!

To be fair Hills did that and I got my money put back on my bank card before their dormant a/c fees kicked in!
Never faced this in the old days - cash over counter both ways.