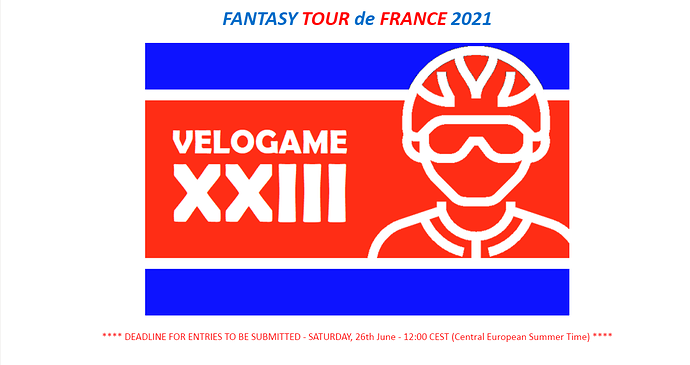 VELOGAMES FANTASY TOUR de FRANCE 2021 has covertly launched. It has the very unusual name of Velogame XXIII to stop the bully boys behind le tour getting their lawyers onto George who runs the Velogames website through his love of cycling and doing fantasy cycling games and sharing that passion with others for free.
Velogames is a free web site that runs separate fantasy games on cycling races - i.e. Giro d'Italia, Tour de France (first time since 2018 due to TdF being bully boys), Vuelta a Espana etc.
Their Grand Tour games are perfect for those of you that don't have much time but like to have a go, as the only time you need to spend on any of their games is at the beginning selecting a team before the start of the race (as there are no transfers at all in Velogames fantasy Grand Tour cycling games).
So please click on this link to check their website out and familiarise yourself with the rules and how points are awarded: Velogames - Velogame XXIII (TdF)
The game is free and you can join others or create your own private mini leagues.
I myself love a gamble and to create some rivalry I have set up my usual small stakes mini money league which I am taking a fiver ( £5 ) of anyone who comes in to it. This is just to make up a prize for the eventual winner of my private mini-league. Alas Velogames has a new system where if you join a league once, it will always put you in the same leagues automatically in the future if you do a team (so for other races). Now as I can't be sure people will want to do my money leagues every time and the system could automatically put your entry in my 'Winner Takes All' money league if you've ever joined in the past I will now operate on the basis if someone has not paid for their entry before midnight after Stage one has finished then I will remove you from the league and confirm the prize pay-out on TFP forum after that. So, if you want in it means contacting me to let me know you're in for the money and making sure I have payment ASAP after joining but no later than midnight (UK time) on day 1 of the race.
​​
​​​The name of the league is: ​ WINNER TAKES ALL
The leagues code is: 702000716 ​
I think by the leagues name it's self-explanatory how the money gets paid out - more teams in the league, more money for the winner.
So, click the link, pick a team and get a fiver to me ASAP (unless you have money on account with me - in which case contact me and tell me to take it out of that). If you don't know how to pay me them PM me with your e-mail address and I'll get back to you with details.
Once you have picked your team and paid your entry fee, just sit back and enjoy 3 weeks of cycle racing!
UK television coverage: ITV4, Eurosport, GCN+ and S4C
To see how your fantasy team is doing compared to the others in the mini league just visit the Velogames website and log in every evening (after the stage has finished to see updated scores).
All the best and I really hope to see some new teams in my mini-league this year (as well as all the old regulars) as I've not been able to run a Tour de France fantasy game since 2018 due to Velogames legal difficulties with le tour.
Best regards,

bluelionman / Noel Symonds
Fan Pub Founding Member