Hey all,
Sadly, as you may well know (if you like fantasy cricket) the Telegraph has given up running fantasy cricket games. I have struggled to source alternatives - even cricket web does not seem to have a County or T20 Blast game for 2020. The only website I have found that are doing a game is Cricket XI - though this website seems to be made by someone who also misses there being any fantasy domestic cricket games out there. As such I guess it's a labour of love and the website does not seem very technically advanced. It has had some issues in their County game around being able to make transfers one round and I am sure it did not save my correct team for the latest round in its CPL game - I thought I had swapped a bench player into my starting line-up and saved it on my phone but now when I check it hasn't done it. Alas the players list is also not broken into groups when selecting a team (batters/all rounders/bowlers/wicket keepers). That said it's still a fun game and better than nothing at all - I guess running such a website on your own for no payment has to be applauded - no one can know a person's skills at this and it must cost them out of their own pocket so one has to make allowances. There for I am happy to play their fantasy cricket games but until such time as I have more faith, that their fantasy games website never has any website glitches etc., I'm only ever going to make my leagues on their games a fiver entry and be 'Winner Takes All' leagues for simplicity. We are all affected equally and go into these games knowing there could be issues and thus we should check and recheck our changes have gone through etc., or keep trying not leaving things to the last minute when demand might be high on their servers etc.
So that all said I have created two T20 Blast leagues - one an open league (ladder) and the other a head to head style league and to just give a small interest for this season I'm making it £5 entry each league and both are 'Winner Takes All'.
People are welcome to join one or both leagues and I hope people will feel £5 is not much at all and give these leagues ago. The season starts (Round 1) 14:00, 27th August (UK time) so there's very little time. The head to head requires me to designate how many teams so I've opted for an 8-team league though I can adjust up or down as shown in the screen grab below (and I will adjust as necessary but to run it needs a minimum of 4 entrants (so 3 more other than myself).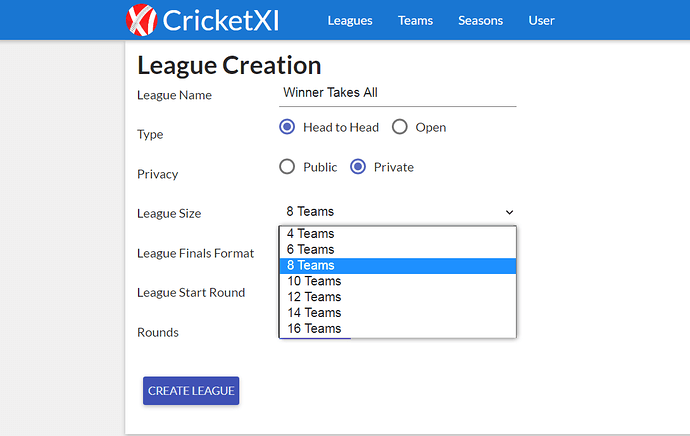 The Classic league will run regardless of how many entrant's join but in both leagues the more the merrier - so please forward this info to friends, family, work mates or anyone you know that might be up for taking part - hell please call them and twist some arms as there is so little time for me to recruit I desperately need all the help I can get. Everyone basically has until Thursday afternoon (2pm UK time) to join and then it locks come start of 1st round of T20 Blast games.
Usual method for payment - if you don't know what that is or have forgotten just PM me from here (the TFP forum) and I will respond with the low down.
best regards,
bluelionman (Noel Symonds)
Classic Open League

League Name: WINNER TAKES ALL

Join Code: BJZOVGUI
---
Head to Head League

League Name: Winner Takes All

Join Code: GNHDZJLI
Link to games website: Cricket XI
All game rules etc., are the websites and can be found under the HELP tab on site but to aid you here is a link to their points scoring, league rules, transfers, FAQ's etc.,: Cricket XI T20 Blast / Help