Hey All,
I noticed CricketXI.com was doing a free fantasy England in India cricket tour game which starts this coming Friday morning (04:00am) UK time - so I thought why not do a couple of leagues (Classic and Head-to-Head) on the tournament. It says the game (tour) lasts 2 months.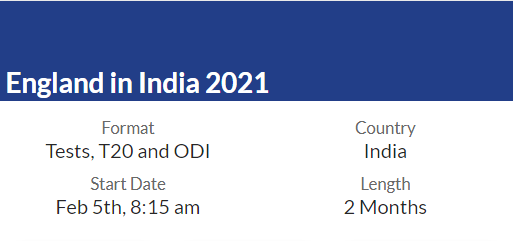 I've set up 2 leagues - one is an open league where you're all on a ladder based on your total fantasy points scored. The other is a head-to-head type league where you play one other team from the league each round and you win, lose or tie. A win is 4 points, a Tie 2 points and a loss 0. That decides your position in the league with tie breakers to split teams such as points % (difference between points scored and points scored against you). In the head-to-head league the top two teams in the league play against each other in Round 12 to decide the Champion.
To make a little bit of interest and a prize for the winners' skill (or luck) I am making both leagues £5 each to enter and both leagues are 'Winner Takes All'.
People are welcome to join one or both leagues and I hope people will feel £5 is not much at all and give these leagues ago. The game starts (Round 1) 04:00am, 5th February so there's little time to go (less than a week). The head-to-head league requires me to designate how many teams so I've opted for the maximum 16-team league though I can adjust up or down as shown in the screen grab below and I will adjust as necessary but to run it needs a minimum of 4 entrants (so 3 more other than myself). Also, if we end up an odd number of teams the site puts in a random extra team so that's not a concern though naturally, they won't be paying to play and can't win the cash prize.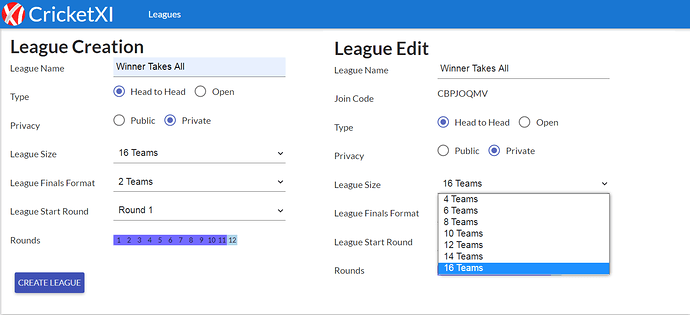 Any one new to my fantasy money games just PM (Private Message) me from this forum for how to pay your entry fee and I'll reply with details.
best regards,
bluelionman (Noel Symonds)
Classic Open League

League Name: WINNER TAKES ALL

Join Code: PTZQSUTD
Head-to-Head League

League Name: Winner Takes All

Join Code: CBPJOQMV
Link to games website: CricketXI.com
All game rules etc., are the websites and can be found under the HELP tab on site but to aid you here is a link to their points scoring, league rules, transfers, FAQ's etc: England in India 2021 / Help