Hey all,
Sadly, as you may well know (if you like fantasy cricket) the Telegraph has given up running fantasy cricket games. I have struggled to source an alternative - even cricket web does not seem to have a county game. Thanks to a poster on another forum I found just one game - seems to be made by someone who also misses there being any fantasy country cricket games out there. As such I guess it's a labour of love and the website does not seem very technically advanced. Alas the players list is also not broken into sub groups when selecting a team (batters/all rounders/bowlers/wicket keepers) and I found the prices compared to the budget made it so very hard to pick a team - I'm still not happy with mine.
However I created a league - there does not appear to be any spin off leagues and no breakdown of runs scored or wickets taken so alas there be no prizes for those aspects this year but upon league creation I did notice the option of having an open league or a head to head style league.
So, what I've decided to do is set up a league for each format - and to just give a small interest for this season and to test out this website I'm making it £5 entry in each league and both are 'Winner Takes All'.
People are welcome to join one or both leagues and I hope people will feel £5 is not much at all and give these leagues a go. The season starts (Round 1) 10:30am, 1st August so there's very little time - less than 24hrs actually. The head to head requires me to designate how many teams so I've opted for an 8 team league though I can adjust up or down as shown in the screen grab below (and I will adjust as necessary but to run it needs a minimum of 4 entrants (so 3 more other than myself).
Please spread the word share a link to this posts with any cricket liking people you know as I really struggle when it comes to fantasy cricket games finding interested parties. Thanks all.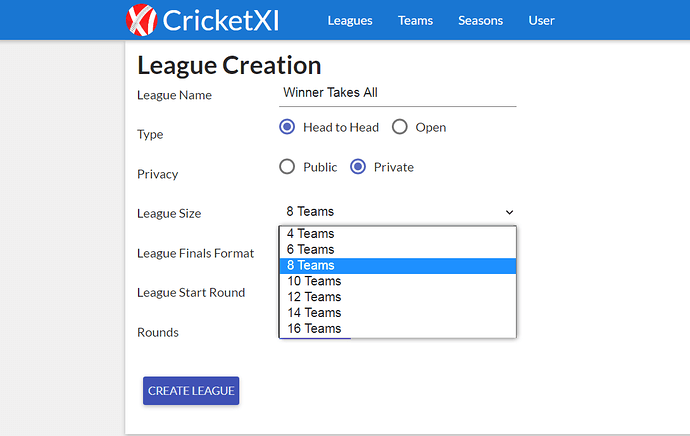 The Classic league will run regardless of how many entrant's join but in both leagues the more the merrier - so please forward this posts link to friends, family, work mates or anyone you know that might be up for taking part - hell please call them and twist some arms as there is so little time for me to recruit I desperately need all the help I can get. Everyone basically has until Saturday morning (10:30am) to join and then it locks come start of 1st round of Bob Willis Trophy games. The reason the TFC game died is I think lack of entrants - it only got some 8,000 or so entries in 2019 I think I read somewhere.
People can pay entry fees to me in the usual way but if your new and don't know or just simply forgot just e-mail me (if you have my details) or PM (Private Message) me here from the TFP forum and I'll tell you how to do this.
best regards,
bluelionman Noel Symonds
Link to website: Click here CricketXI
Classic Open League
League Name: WINNER TAKES ALL
Join Code: WKIFTITJ
Head to Head League
League Name: Winner Takes All
Join Code: ZWHACPBS
---
All game rules etc., are the websites and can be found under the 'HELP' tab on site but to aid you here is a link to their points scoring, league rules, transfers, FAQ's etc: County Championship 2020 Game Rules