Hey All,
I noticed CricketXI.com is doing a free fantasy Ashes test game which starts this coming Wednesday morning (00:00am) UK time - so I thought why not do a couple of leagues (Classic and Head-to-Head) on the tournament. It says the game lasts 2 months (5 Tests).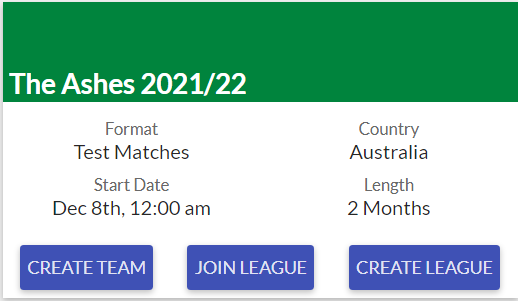 I've set up 2 leagues - one is an open league where you're all on a ladder based on your total fantasy points scored. The other is a head-to-head type league where you play one other team from the league each round and you win, lose or tie. A win is 4 points, a Tie 2 points and a loss 0. That decides your position in the league with tie breakers to split teams such as points % (difference between points scored and points scored against you). In the head-to-head league the top two teams in the league play against each other in the Final (5th Test) to decide the Champion.
To make a little bit of interest and a prize for the winners' skill (or luck) I am making both leagues £5 each to enter and both leagues are 'Winner Takes All'.
People are welcome to join one or both leagues and I hope people will feel £5 is not much at all and give these leagues ago. The game starts (Round 1) 00:00am, 8th December (so Tuesday night going into Wednesday morning - just to be clear) so there's little time to go (less than a week). The Head-to-Head league requires a minimum of 4 entrants (so 3 more other than myself) to run. Also, if we end up with an odd number of teams in the Head-to-Head league the site will put one team each round on a bye.
Payment by the usual means - if your new or have forgotten just PM me from here with your e-mail address and I will reply with full details on how to pay your entry fee.
That's it.
best regards,
bluelionman / Noel Symonds
Classic Open League

League Name: WINNER TAKES ALL

Join Code: BZSLYRRA
Head-to-Head League

League Name: Winner Takes All

Join Code: JIJTUBGZ
Link to games website: CricketXI