ESPN Fantasy Rugby is back for 2018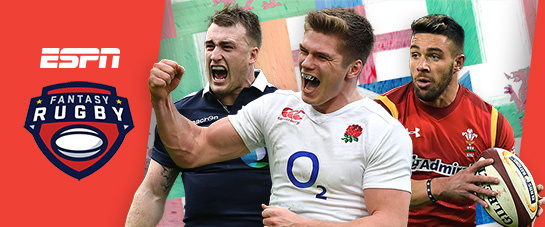 FANTASY SIX NATIONS 2018 -
INTERNATIONAL RUGBY UNION
Well the NFL season is almost over and many of us will have tanked in the football (soccer) so a nice change of sport is offered up with the annual Rugby Union Six Nations tournament. This is a free game Scrum ESPN do over the internet (click the link below) but I always think it's more interesting to have a little money on it and as you can make up your own private league have done just that.
My private league I have decided will be £5 entry per team (contact me for ways to pay) which will create the prize for my leagues winner. So naturally the league is called 'WINNER TAKES ALL' - & the more teams that join the bigger the prize for the eventual winner - so get busy getting any friends of yours to join that want in - as first game starts a week Saturday (3rd February)!
All entrants to have paid by the start of the 2nd round of games - any one that has not will simply be removed from my league soon after this deadline.
Web Site: ESPN Fantasy Rugby
Here are the details needed to join my private money league:-
League Name: *** WINNER TAKES ALL ***
League PIN: 1309032-55781
First game is Saturday @ 14:15 (Wales v Scotland).
If you decide to play - best of luck.
Noel / bluelionman
PS Any teams joining the league must be on zero points when they join.
P(2) If you don't see me in person and don't know how to pay me then PM me from here (TFP) for details.