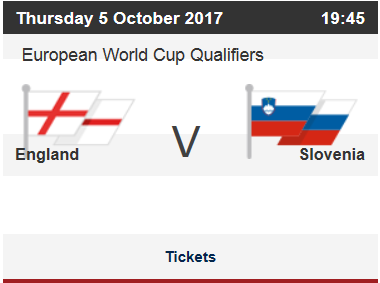 Okay TFP'ers - I have decided I am going to go to this match and thought it would be more fun to go as a group again.
Tickets are on sale right now to England Members of which I am one - they also have a special extra discount for Travel Club members who bought tickets for the Slovakia game - which I did. So what that means is I can get the following prices:
Should anyone else want to go with me and has children I am able to purchase a maximum of 3 adult tickets and up to 5 U16 tickets in the family stand - but to go in this stand have to have at least 1 U16 in my group offically (unsure if they check as never been in family stand before).
In this stand there is no alchol but tickets with my special discount for this game are £15 adults and £7.50 U16. (+£1 per ticket to cover boking/postage fees).
Elsewhere in the ground (not family stand) I can buy up to 8 tickets - any combination of adults and U16 - but cheapest availble tickets with my discount are £25 adults / £15 U16's. (+£1 per ticket to cover boking/postage fees).
So as you can see the family stand offers quite a saving (just drink before after game).
However I only have this opptunity up until 3pm on 1 August to buy at these prices.
So I plan to order my tickets at latest on Monday - if anyone esle wants in tell me how many Adult / U16's and then I'll know who's coming and what area I can buy tickets in - I'll go for best price.
If any one wants in on this game group they need to let me know ASAP and I will stick you on the list below. It's the first 8 peeps to commit or however many have offically committed come Monday night (31 July) when I will order them.
This is a good deal as normally adult tickets at the cheapest are *£35 in all but the family stand area.
(*Concessions: £10 discount for OAPs, students and U16s)
Any way below is a list of people confirmed coming on this jolly (maximum 8 spaces):
PEEPS CONFIRMINED
Name (TFP Username if member) A = Adult Ticket / C = Concession Ticket / U16 = Under 16 Ticket
NOEL SYMONDS (bluelionman) - A
DENE POWELL - A