Confirmed & Paid List:
Name / TFP username
1. Noel Symonds / bluelionman
2. Iain Morris / Mozza_19
3. Tony Hamm / silverflash
4. Daniel Nichols / Flacco2012
5.
6.
7.
8.
9.
10.
11.
12.
13.
14.
15.
16.
I am setting this up in plenty of time this year.
To avoid confusion and time spent voting etc., I have picked a date and time and ruleset for this league. The entry fee will be the same as last season - £25 per team. I will confirm prizes after the draft but before the season starts when I know how many teams we have (unless I get a full quota of 16 players prior to then in which case I can then work out the prizes before the draft itself - which would be better). All entry fees will be paid back out as prizes.
I am using Fantasy Premier Leagues draft game for my league.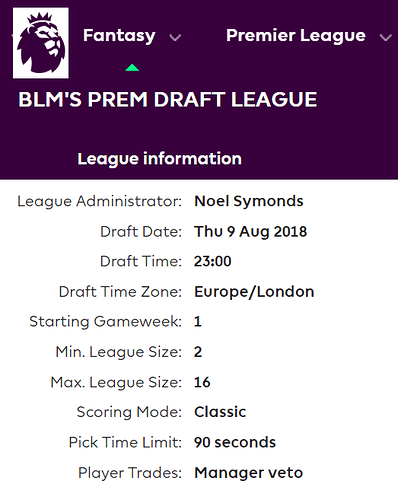 You may have noticed from the above league info is this year the FPL Draft game has introduced trading so you can trade players with other teams. I have activated this in my league where it goes to a vote system - this means managers can vote against a trade (hopefully they only do this if they think the trade is unfair) but to get a trade vetoed it takes 50% of managers to vote against it - not only that a trade is approved at the waiver deadline and the system takes any non team manager votes as approval. So it is much more likely trades will go through than not - and also means managers should pay attention to trades when notified and use their veto option if they don't agree with it.
I have stuck with the standard default of 90 seconds per pick - I know some find this to long but equally others don't so decided to keep to the default setting (the system allows for me to set it from 30 seconds through to 120 seconds).
I have had to reschedule the draft as the site went down Saturday evening plus no one was available to draft live other than myself so hoping the poll below with two alternative dates/times will ultimately suit more people - even though less ideal for me.
I have decided to send this info out by e-mail and post it on TFP and the first 15 to commit and pay up are in.
I will send another e-mail out to all in my mailing list to alert people to the change and this poll for a new date/time. Hopefully one of these 2 options will suit more people than Saturday 7pm did. The poll will close Wednesday evening and then I can set the draft date and time in stone that has the most votes. If it's a tie I will leave it as it is (the Thursday night option).
People can contact me for a direct invite to the league but am not publicly advertising the league code as had a few problems of late with people joining my money leagues and then not making contact and more importantly not paying up. So if I know you then fine just ask for the leagues code but if your new to my money games / leagues and have no history with me then I'm afraid its pay first and then I'll send you the league code.
Direct Links
Fantasy Premier League / DRAFT
All that remains is for you to decide - are you in - or out?
best regards,
Noel / bluelionman
PS - PM me for payment instructions if you don't know the score.