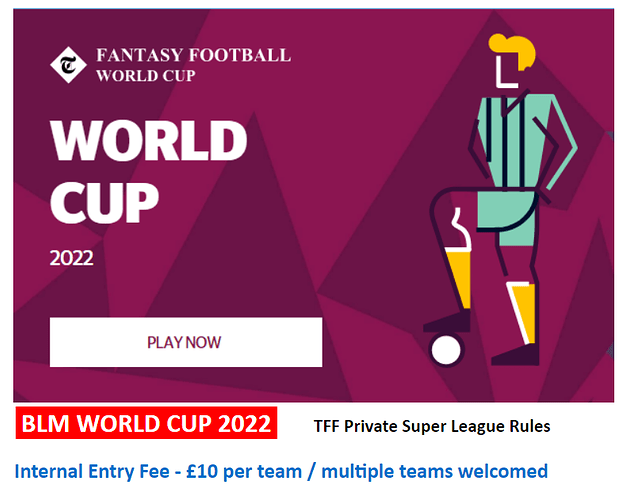 Hey there,
The Telegraph has now released its rules for their fantasy game on the FIFA World Cup 2022 in Qatar. Full details can be found via this link:
Telegraph Fantasy Football World Cup
If after reading the Telegraphs game information / rules you wish to join my private money league for a bit of extra added interest, then please do so - it's £10 per team to enter my private league - multiple teams welcomed if you fancy more than one attempt.
MY SUPER LEAGUES ARE OPEN TO ANYONE WHO WISHES TO PLAY - so if you have any friends or family, you think would be interested in playing, please forward on this e-mail by all means.
The rules and everything are as the Telegraph print's them… they run everything… so read them on their website. The only difference with this Super League is I have made it a private money league with an entry fee of £10 per team to facilitate making our own cash prizes for the winners in my own private Super League and to promote competition within my internal Fantasy Football World Cup league.
So, what exactly do you get for your money -
Well, the £10 (per team) Private Super League entry fee goes 100% to make up our own leagues prize fund and is paid back out as prizes at the end of the game as follows:
PRIZE PAYOUT STRUCTURE

Overall Super League Winner (1st) - 40%
Overall Super League Runner-up (2nd) - 20%
Golden Boot (most goals) - 20%
Starting XI table winner - 20%
Quite rightly most prize money is awarded to the overall winner, however there are prizes for the winners of the spin off tables and the 2nd placed team in the overall league! However, to make these prizes really worthwhile we need a big league so I implore all of you to recruit your work mates and personal friends (forward a link to this thread on to all who you think might be interested).
Now the prize positions are given as percentages because the final prize amounts will be dependent on the number of entrants we get in this private money league - so totals will creep up every time a new team joins the league.
ALSO PLEASE NOTE: TFF decides the rules including tie breakers so please read them as they may have a tie break scenario for deciding positions when scores are tied at the end of the game. For instance, if two teams tie for most goals they may put the team with more fantasy points overall higher as opposed to having a tie. In the overall league two teams with the same amount of fantasy points they may be split by goals scored - things like that. Everything can be checked on TFF's website under Help/FAQ's etc.
The Telegraph decide all the official game rules and any tie breakers so just wanted to point this out. I will pay out on how they list folk at the end of the game (either 1st/2nd or Tied = 1st).
You can have multiple teams in my league (but each one will cost you £10 to enter into my league).
To score points from the start of the tournament and qualify for the Starting XI league you must have registered your team by Sunday, November 20, 2022, 4pm (GMT) . That is when the first game kicks off. I will allow late joiners to my league up until every team has played one match - but any team added into my league late must be a new team joining on zero points when added in to my Super League.
'No waiting to see what team of yours got off to a good start then sticking it in!'
Also, the Telegraph have a transfer amnesty until that first game deadline so you can keep changing your team up until then without it affecting your transfers quota and only the team you have at that deadline will be the one classed as your Starting XI. So there is no reason to delay registering your team and getting it in now - because if you leave it to the last minute the TFF website is likely to have huge traffic levels around that deadline that may result in you finding it hard to register your team and the whole website running slower than usual as the deadline approaches come kick-off of that opening game.
Now all that remains for me to do is give you the information you need to join my private Super League should you wish to get involved…
Super League Name: BLM WORLD CUP 2022
League Code: JUAMZOD2
Best Regards,
bluelionman / Noel Symonds

Fan Pub Founding Member
PS Please contact me for my payment details (you can PM me from here - the TFP forum).
P2 Any fantasy teams not paid for once every country has played it's first game will be deleted - I will then confirm the prize amounts on this thread in a post below.