My pitching staff is seriously underperforming - one season-ending surgery, one 60-day disabled list, one 30-day disabled list…
I know the feeling, two of my pitchers have already had season ending Tommy John surgeries

I can't see us finishing first and second, in either order, this year!
Week 8 - league leader Sam top scores this week. The rich keep getting richer. Decent second place for Javier - but Andy's 'Topes are rock bottom, 100 points behind Sam
Week 9 - a narrow win for Jordan on the week, just 1.5 points ahead of Mozza. Once again, the Isotopes come last, and once again, a clear 100 points behind the weekly winner
Overall - Sam remains comfortably top, with Malcy (Loons) and me (Biscuits) the closest chasers.
For the first time this season, Javier's Mavericks are not bottom - it will come as no surprise to see who has replaced him in that position…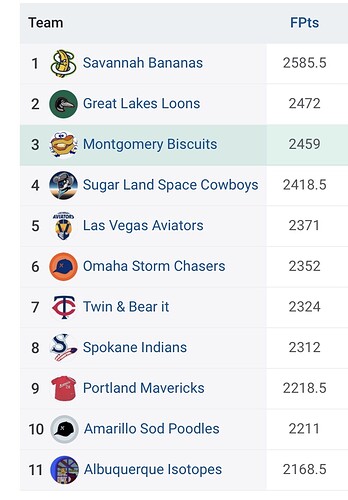 This sums up my feelings…
Week 10 - Javier's recovery from a slow start continues with a narrow weekly win, over Andy D's Indians. Meanwhile the other Andy has an unwelcome treble as his Isotopes are last, yet again.
Week 11 - the Spokane Indians follow up their 2nd place, with a weekly win for Andy D. The Loons and the Space Cowboys are close behind, while Chris comes last to deny the Isotopes an unprecedented four-timer.
Overall - Sam remains top, but his lead has been slashed by Malcy's Loons…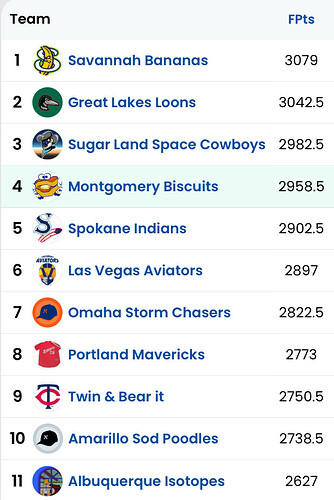 Got a feeling I am going to enjoy doing this week's write-up…!
First things first - I hope anyone who went to the Cubs / Cardinals games at the weekend had a great time

Week 12 - good showing by Javier's Mavericks, and Andy D's Indians, but my Biscuits came out on top. League leader Sam had a dreadful week with his Bananas…
Week 13 - the Montgomery Biscuits win again! Sam recovers from his bad week to come second, while Jordan is close behind in third.
Overall - I'm back in the lead! Actually a very tight four-horse-race, with Malc, Jordan and Sam all within 40 points of the top - but then over 100 further points back to fifth place.
The Isotopes remain comfortably clear in last place!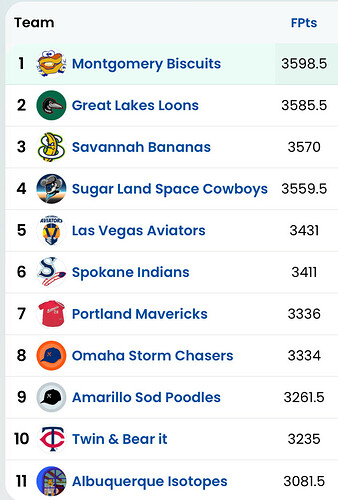 Week 14 - Andy D's Indians and Mozza's Sod Poodles tie for the weekly lead, while Sam's Bananas are dead last
Week 15 - last to first, Sam bounces straight back with a win, while Javier narrowly pips Jordan for last place
Overall - Sam regains the lead he lost recently, narrowly ahead of Malcy's Loons.
Isotopes remain in 11th place…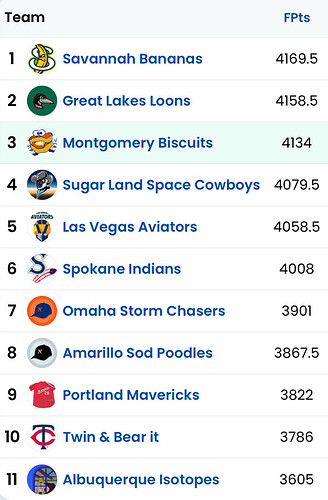 How can I have more points than the Aviators but still am behind in the standings? I was in front if him yesterday?
I don't check the scores every day Andy, but…
at the end of last Sunday, you were 50.5 behind the Aviators
this week, you have beaten the Aviators by 37 points
at the end of yesterday you were 13.5 behind the Aviators
…so I think the position is as I would expect it?
Maybe there was an error on the website for a day or so, but it looks OK now
Cheers mate

Week 16 - Andy D's Indians get a narrow weekly win, just edging out league leader Sam. Omaha come last
Week 17 - another good week for those Indians, but this time just beaten by Jordan's Space Cowboys. Omaha come last again!
Overall - Sam and his bananas strengthen their grip on first place. Malcy's Loons still 2nd, but now 60 points behind the leader.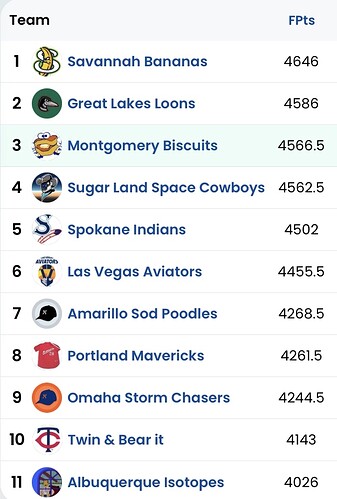 Week 18 - comfortable win for Jordan's Space Cowboys, over 75 points clear of Chris in second place
Week 19 - much closer this time - Sam scraped the win ahead of Andy D and Paul, but this time 75 points covered first right down to eighth place
Overall - Sam still hanging onto top spot with Jordan back up to second. Still 30% of the season to be played, but I'm beginning to think Albuquerque are out of the running…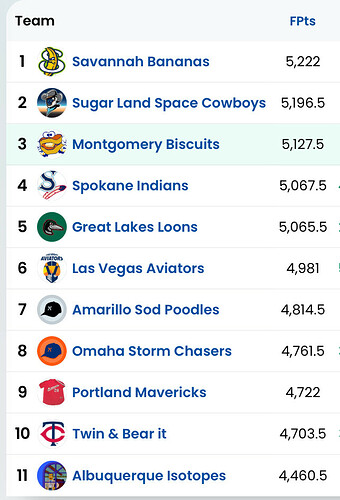 I think you're probably right!

Week 20 - a weekly win for the Commish ! With Jordan's Space Cowboys and Dan's Storm Chasers neck and neck behind me
Week 21 - nearly a double for me… but had to settle for second place this time, as the Storm Chasers bagged the win to cap a good fortnight for Dan
Overall - all getting very close again… Sam still leads, but both Jordan and I are under 20 points back. Everyone else is at least 200 off the lead now - quarter of the season still got go but it will be hard to pull back the top three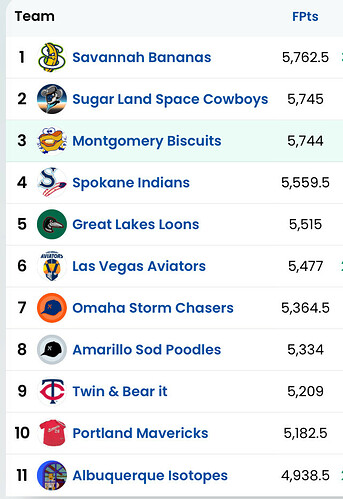 Week 22 - another weekly win for the commissioner

Mozza and his Sod Poodles pushed me hard
Week 23 - Jordan's Space Cowboys win this one, though I came close to a double, in second place just ahead of Sam and Malcy
Overall - I'm back on top! Only 7 points ahead of Jordan, who is a single point ahead of Sam in third. Will be an actual miracle if anyone else makes the top three from here - Andy D in 4th place is 286 points behind Sam…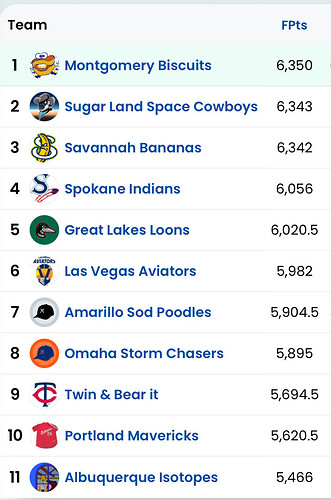 Week 24 - Dan's Storm Chasers get the win and are the only team to top 300 this week - though me and Jordan are only single figures behind him
Week 25 - almost the double ! Dan gets past 300 again. But this time Jordan pushes him into second place
Overall - with only a couple of weeks to go in the season, Jordan has got himself a handy lead over me and Sam. Dan's hot streak has moved him up from 7th to 5th. Andy S still last, but still fighting for 10th place!