CHAMPION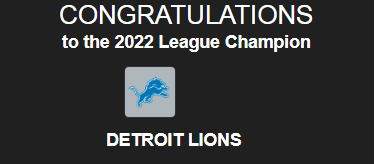 REAL TEAM ALLEGIANCE League - Records & Super Bowl Results

UPDATED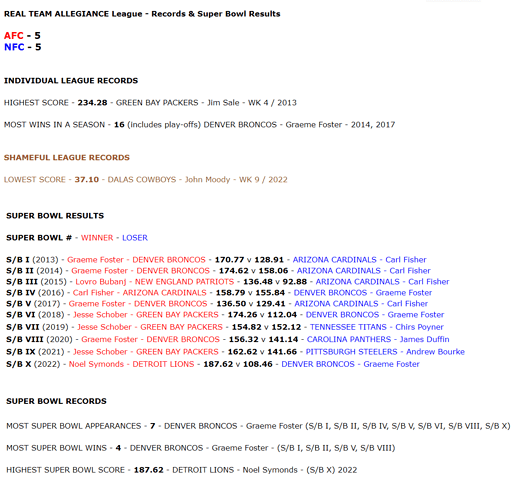 Well, well well - a fair few records got changed this season - firstly the NFC has now equaled the AFC on Championships - 5 Vince Lombardi Trophies a piece. Further more, I have surpassed DENVERS (Graeme's) highest Super Bowl score which means it now belongs to DETROIT (Noel) with a not to shabby 187.62. However just getting to yet another final means DENVER (Graeme) has increased his record on Super Bowl appearances to 7. Some going that, in 10 finals Graeme (DENVER) has contested 7 of them. Without doubt the dominant team over the first decade of the RTA. Our first true dynasty you could say.
Now the record you don't want to own and Douglas Hay - a previous GM of the CHICAGO BEARS - will be so glad that finally another team takes over this toilet record. In this case the DALLAS COWBOYS under GM John Moody has wiped out his record lowest ever score of 51.05 with an even worse low score of just 37.10. How bad is that!

Well that wraps up Year 10, this league will be back for it's 11th season in 2023. A few GM's have asked to be replaced so if your reading this and you support an AFC team not currently represented feel free to get in touch and if you convince me your the right fit - play hard and don't quit - then you could be joining us.
Sweet video - thru me for a bit wearing Bears gear - I really thought what's going on here - that's not John is it! At least it was not Green & Gold… they are my biggest rivals and team I for my sins dislike the most - as they have dominated my teams division most of my life, think it just comes down to that.
Once again thanks Jon - yeah I think that's a neat idea you had - I'd be okay to drop a fiver $5 USD/EUR or what ever currency you want towards a winners ring - just say winner doesn't pay year they win but be nice if everyone else wanted to split cost for that.
I myself am tempted to get myself rings for the leagues I've won going back over 20 years - as you pointed out - I'm not very good so it's only about 3 or 4 successes over 6 leagues in 2 decades.