On dates, sooner the better for me. I'm away mid June for a week
These are the rules on mfl.com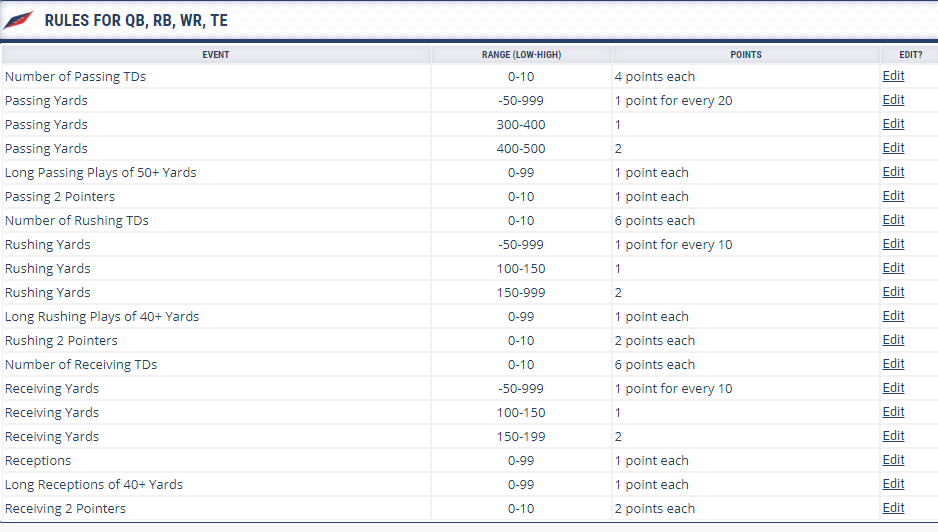 Good news and bad news.
Good news: The League is now full
Bad news: Holidays mean we might not be able to draft till June 24th. But I'm hoping we can sort at least the auction part before then if we can found a suitable date.
Looking at the evening of the 3rd June for the auction. Mike goes on holiday on the 5th so as long as we are patient on his picks then this snake could follow straight after. Slow draft.
Ok so I think the results of the polls are in: MFL just pipped fleaflicker. Never used it before lets hope it worth it. £25 entry and auction then snake draft rounds 5-25. Slow draft
£25 entry +5 for MFL for the year =£30 Please send to my paypal which is Alanroberts1987@live.co.uk. If your email is different to your paypal then please dm me your email for the league invite.
We are doing 4 rounds of auction so you can bid on who you want for your franchise, but you only get 200 to spend on those four. Go in big early or wait and get some bargains, lots of choices. The franchise that spends the least will have 1st pick in the 5th round and it will snake for the rest of the draft. The one who spends the most or is out of money 1st will get last pick in the 5th and 1st in the 6th. So have a think about your strategy. You can't bid on any other players once you have your four in the bag. If your bid takes you over your limit it will become void.
All money paid out in prizes. Our prize pool is £300
Winner £150
Division Winner (we are all in one division ) £75
Runner Up £75
So in theory you could win £225 from one season
Auction draft
3rd June 7.30 pm start
4th June 7/30 pm Start
Can make both
Voted for the Sunday night.
(at work on the Monday night)

Sunday 3rd June looking good so far, shouldn't take long with only having 4 players each
Just need an e-mail address for you mate so I can invite you to the league
Cheers
Al
Not sure about Sunday. I'm at Twickenham for the Rugby 7's so could probably be back later, but it would be tight to online by 7:30.
BTW, Whytedowne Ice Wyverns is me. Figured I'd go with a mythical-themed team name.
No problem mate we can put it back a little later, what time do you think you'll be back and ready?
I'd think 8:30 would be fine. We're doing 4 rounds via auction, so 2 mins per pick shouldn't make it too late a night.
Haven't heard from @thandouk. I'll give him a few days but if anyone would like to be on the reserve list just in case then let me know
Cheers
Al
I am creating a dummy league on espn just so we can do the auction draft. You will be getting invites. If you don't receive one let me know.
The league will be deleted stragiht after we have our 4 players each. I will then enter those 4 players onto each of our rosters.
Ignore the scoring etc that doesn't matter.
The ones that spends the least during the auction will pick 5.01 in the draft and so on till we get the one who spent the most or spent the highest amount at the earliest time who will pick 5.12 and 6.01. it will be a snake draft by email after that.
Draft is 3rd June at 8.30 pm
Come me in for 20:30 on Sunday - in the process of making payment
Just to clarify a few points on the auction. It will be done on ESPN and i'll take the four places we each have and add them to our rosters.
The nominate order will be selected at random by the draft room. You get 200 this isn't wab, you'll be get that for free agents later in the season. You can't take any of your balance of out the draft room. The one that spends the least gets pick 5.01 and so on until the one that spends the most gets the last pick of the fifth round 5.12 and 6.01 as it snakes. If there's a tie and that's likely the one that spends the amount first will get the lower pick. The auction will continue until we have four players each, obviously if your squad is full (4 players in this case) you can't bid anymore. Once a player is bought the next player nominates and so on
We will continue until all 48 players are drafted, I will then work out the draft order and we will continue the draft by email.
You can still sledge people in chat though
Any questions then give me a shout.
Cheers
Al
I anticipate there will be quite a few trades in this league if our other leagues are anything to go by.
So we need to create a group to be able to discuss theses. i.e I want to trade this player/pick etc
Should we
Create a league page on thefanpub discord
Whattsapp Group
Either is fine
I do like WhatsApp, as I can check in from my phone at any time. But I know you guys like your forum